Good Times Again???
Take a look at the Dow Jones Composite Index (Not the Dow Jones Industrial). It appears that the DJA is right at the resistance level it was at during the late 90's. Will it break through to new heights or get trampled back down again?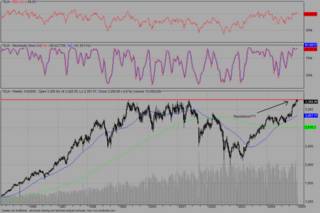 Click to Enlarge

Long-term investors (and everyone else) should pay attention. This could be a sign for what's to come with the other indicies.
The DJA is not looked as much as the DJIA or the DJU.
The Dow Jones Composite Average is a price-weighted average of 65 U.S. stocks. The average is a combination of the Dow Jones Industrial, Transportaion, and Utilities Averages.
Here are the components for the DJA
Best Regards,
The Soothsayer of Omaha