The DJIA Is Also Feeling A Little Toppy
The DJIA has now told us how it feels about there being a toppy market. Take a look at this monthly view below. Long-term investors (and everyone else) should be looking for ways to position themselves in this topping atmosphere.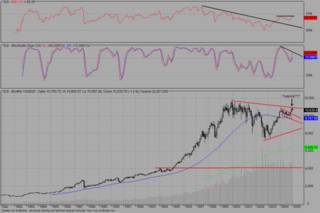 Click to Enlarge

Maybe that involves selling out and sitting on the sidelines for a while? Maybe that just involves tightening your stops? Whatever you do when things look "hairy" you should be looking at doing now.
This is an analysis of the overall market. There are stocks that can still go up during a sideways or bear market. It is just much more difficult to beat the market being on the opposite side of the trend.
Best Regards,
The Soothsayer of Omaha