Guru Analysis from NASDAQ.com
NASDAQ.com
has a nice feature that I have mentioned plenty of times during my writing for the Weekly Investment Roundtable I contribute to. NASDAQ.com has a
guru page
that analyzes stocks from a "guru" point of view. Below are some picks that they believe Benjamin Graham would have liked based on his investment requirements.
These stocks are on my watch list, but the guru page is not my only source of information.
1) Friedmans (NASDAQ: FRDM) is in an obvious downtrend. This one has fallen pretty sharply and will most likely take a while to calm down before its next ascent.
Click to Enlarge

2) Steel Technologies (NASDAQ: STTX) is currently in an uptrending range. I would be more likely to purchase shares once it tested its lower range again around $15-$16. Take a look at the bearish divergence in the RSI and Full Stochastic indicators.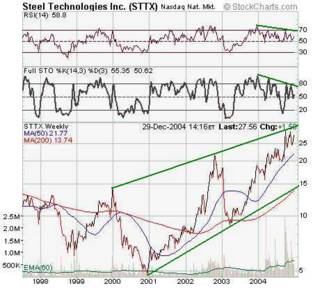 Click to Enlarge

3) Furniture Brands (NYSE: FBN) is currently in a triangle pattern. Watch and wait for a trend break. It is much easier to invest/trade on breaks of trends rather than buying at the lower support and selling at the upper resistance line. Watch out for those moving averages as well. They will act as quite a bit of resistance and are currently heading down.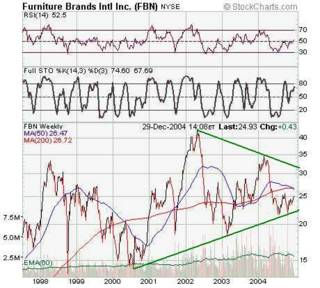 Click to Enlarge

4) Flexsteel (NASDAQ: FLXS) broke it's uptrend in the middle of 2004. Avoid new purchases of this stock. If you are still holding on due to hope/fear, look towards selling at around $18.50-$19.00 (If you can't stand selling now that is). That uptrend line is now considered resistance.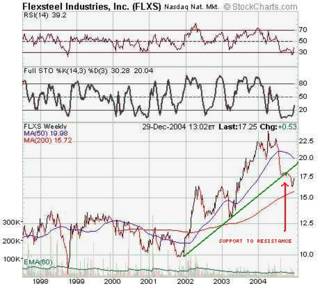 Click to Enlarge

5) Superior Industries (NYSE: SUP) is looking to break out of it's downtrend that began in March of 2004. The RSI and Full Stochastic might be forecasting that break. Both of these indicators recently broke above resistance. This is not an instruction to buy, but be watchful of that downtrend line. A break above it with good volume would be a well received omen of things to come.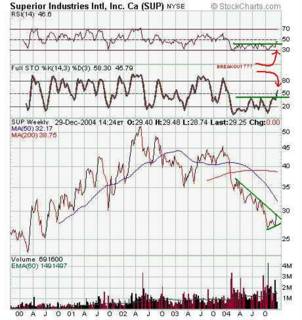 Click to Enlarge

On another note, I may have finally found an investment to put my hard earned money in. I will give a full report when it's time.
I am hoping to teach many aspects of investing through the exercise of investing my own (real) money. I have put together a portfolio of $5,000 that I will invest in value stocks for the long-term. If you care about your future, you will have to learn to invest wisely. I hope I can be of some help. Other's that are here to help are located on my sidebar.
This first investment will put me on the quest of becoming the greatest investor out of my home town. Warren Buffett has that title now. I hope to change that. Join in on the fun and come back often to see my progress and hopefully learn something.
Best Regards,
The Soothsayer of Omaha