StockCharts.com Feature
I just found a useful feature over at StockCharts.com that I would like to share with my readers.
I am a long-term investor. Therefore, my first stop is always
Bigcharts.com
. I look at their charts with "all data" selected. They show you the whole picture, from when the stock first started trading (not always with the companies that have been around forever, but most of the picture).
Then, if I like a stock from a long-term perspective, I will go to
stockcharts.com
to get a better idea of the short-term possibilities. I feel they just have better short-term charts and they are easier to use.
The above is not really the topic of this post though. I just wanted to let you know how I look at charts of stocks. Now, I will get on with the real topic of this post.
Being a long-term investor, you have to look for stocks to come down in price to where you think they are good buys. Buy low...sell high...you know the saying. Knowing when the markets are at a bottom would be really helpful in this regard. Well, stockcharts.com makes it easier for us do-it-yourselfers.
They chart for you several indicators of interest:
Bullish Percentage Indexes
Sector Bullish Percentage Indexes
Count of stocks above a certain moving average
Market Breadth Indicators
Volatility Indicators
You can find all of them at the symbol catalog at stockcharts here. Type in a "$" in the search and 21 pages of helpful symbols pops up.
The Bullish Percentage Indexes indicate the percentage of stocks in a given set of stocks (exchange or index) that have buy signals on their point and figure charts.
<>The idea is that when too many stocks have buy signals, most of those traders who would want to buy would have bought already. This would lead to a lack of new buyers to push the prices up further. It is a contrarian indicator. The opposite is also true, but it has been found that these are more useful for picking bottoms. Here is the Bullish Percent Index for the S&P 500 in a weekly veiw. The S&P 500 Spyder is right under it for comparison.
Click to Enlarge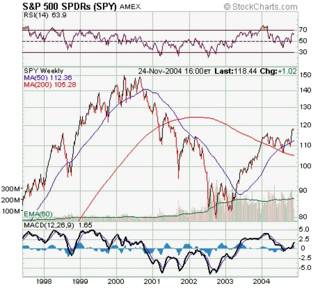 Click to Enlarge

You can see that a reading of around 30 or under is a good indication of a bottom forming in the S&P Spider. Play around with it to see what you can come up with.
The sector bullish percentage indexes are the same just with different sectors instead of larger indexes.
The "stocks above a certain moving average" indicators is pretty self explanatory. Stockcharts.com gives you the number of stocks above a certain moving average. They have the 200-day, 150-day, and 50-day.
Here I will show you on the Nasdaq what the 200-day indicator chart looks like in the weekly view.
Click to Enlarge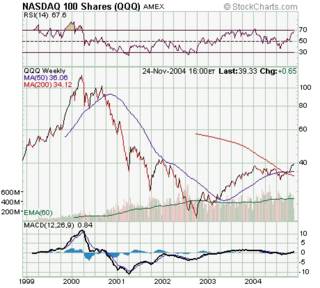 Click to Enlarge

Play around with this one too to see what you can come up with. Make sure you let me know in the comments section. On all of these you can add different moving averages and use that as times to purchase as well. For instance, buying QQQs when the stocks above their 200-day moving averages crosses above it's 10-day moving average...or whichever.
Market Breadth Indicators
use the advancing and declining stocks to try to find out where the market is going to go. There is a chart for new highs, new lows, new high-low ratio, record high percent index, and NYSE volume advancing-volume declining.
Here is are some charts for you to play around with:
Click to Enlarge

Click to Enlarge

Click to Enlarge

Click to Enlarge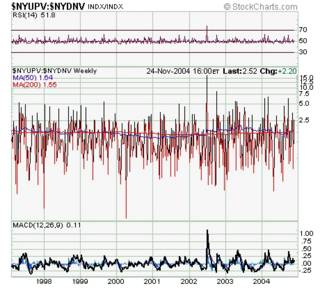 Click to Enlarge

Make sure if you play around with these indicators to let me know what you come up with in the comments section. I hope these indicators help in your learning.
Best Regards,
The Soothsayer of Omaha